History of Scouting
On 24th January 1908, the Boy Scouts movement begins in England with the publication of the first installment of Robert Baden-Powell's Scouting for Boys. The name Baden-Powell was already well known to many English boys, and thousands of them eagerly bought the handbook. By the end of April, the final installment of Scouting for Boys was completed. Over that period many Boy Scout troops sprung up across Britain. For information about the history of the Scouting movement click here.
The History of our Group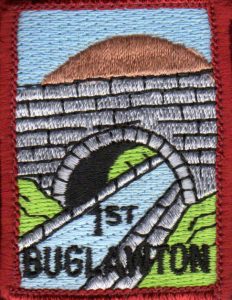 1st Buglawton (St. John's)
Formed: 1925
Meeting at:
1925: St. John's School
1970: St. John's Church Hall
1976: H.Q. St. John's Road
1925: The 1st Buglawton troop of Boy Scouts was enrolled by Mr. A.B. Frith (the District Commissioner for Macclesfield and Congleton), at the old scholar's reunion service at St. Johns. Mr. E. Fern led a troop of 7 scouts.
1926: The troop grew slowly in size and reached 12 Boy Scouts, but attracting leaders was a problem then as well.
1927: The troop came to an end in the September.
1933: After the the opening of a premises at Stonehouse Green for the use of scout groups and a growing awareness of the Scout Movement in Congleton, the troop was reformed by Brian Wood and his Assistant, Mr. C. Yates. It was a small start with a patrol of 8 boys.
1934: The group was doing well with the membership almost trebling in 1935, Mr J.E. Duncalf joined the team.
1936: After only 3 years the troop was again brought to an abrupt end.
1970: After a gap of many years the people of Buglawton had another go at forming a scout group with the aim of a longer term future, 32 cubs, 31 scouts and crucially 7 scout leaders were involved with the group. Named on the application to register the group were:- GSL Douglas Parker, CSL Carole Salthouse, ACSL's James Walton and Helen Ward, SL John Salthouse and ASL's John Bunganaar and Alan Wilson.
1975: The group changed its title to 1st Buglawton
1976: Along with the Guides, the group built our H.Q. at St. John's Road. This showed the faith that the committee, leaders and community had in the future of the group. Doug Parker and Helen Ward were still in place and they were joined by S. Goodwin, A.C. Cooper and Mrs. Mackey.
1977: The group's success continued with N. Dutton of West Heath becoming Venture Scout Leader. The group expanded to 48 cubs and 30 scouts.
1978: Cubs were enjoying a very successful time with 55 cubs enrolled. It was decided to form two cub packs, Romulus and Remus.
1983: The group set up one of the first Beaver Scout colonies in the district with Pauline Hurd along with her 20 beavers.